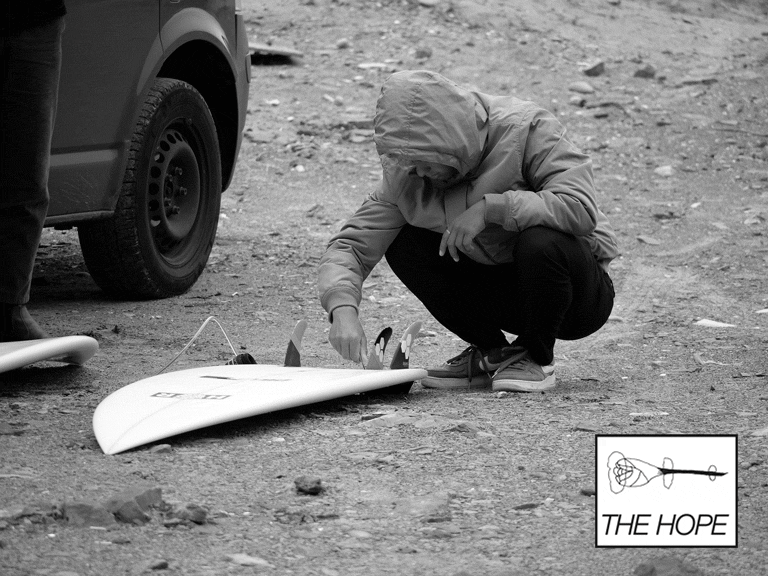 The Hope
Wave Size
Cintura hasta por encima de la cabeza.
From waist to  overhead.
Wave Type
Ola de Playa /Ola de Roca.
Beachbreak /Pointbreak
Level
Intermedio / Avanzado.
Intermediate / Advanced.
Description
Este es uno de los modelos que más nos ha costado desarrollar, dado que se trata de una tabla de competición High Performance de los 90, pero adaptada al surfista medio y avanzado de hoy en día.
Si en algo hemos puesto especial atención, es en conservar el rocker original del modelo, muy utilizado por surfistas franceses del team H.R en el pasado como Eric Rebiere y Simon Marchand, ambos competidores de alto nivel QS.
Básicamente, hemos ensanchado el área del Nose y Tail para darle más estabilidad en el Surfing moderno de aéreos y maniobras radicales, pero siempre conservando el feeling original de la tabla, pensada para realizar maniobras radicales en el pocket de la ola.
La combinación de Single a Double Concave, hace la tabla muy maniobrable y apropiada para aquellos que busquen mejorar sus giros.
Así mismo es una tabla muy rápida y que facilita coger olas, dada su  excepcional salida.
---
This is one of the models that has cost us the most to develop, since it is a High Performance competition board from the 90s, but adapted to the average and advanced surfer of today.
If we have paid special attention to something, it is to preserve the original rocker of the model, widely used by French surfers from the H.R team in the past such as Eric Rebiere and Simon Marchand, both high-level QS competitors.
Basically, we have widened the Nose and Tail area to give it more stability in modern Surfing of airs and radical maneuvers, but always keeping the original feeling of the board, designed to perform radical maneuvers in the pocket of the wave.
The combination of Single to Double Concave, makes the board very maneuverable and suitable for those looking to improve their turns.
It is also a very fast board that makes it easy to catch waves, given its exceptional output.
Features
Medidas
5´6 — 18´1/2 — 2.28 — 24`61 lt
5´7 — 18 3/4 — 2 .32 — 25,75 lt
5´8 — 18.88 — 2 .35 — 26,67 lt
5´9 — 19 — 2 .38 — 27.70 lt
5´10 — 19.15 — 2 .48 — 28.90 lt
5´11 — 19 1/4 — 2 1/2 — 30 lt
6´0 — 19 1/2  — 2 .5/8 — 31.90 lt
6´1 — 19 3/4 — 2 .63 — 33.50 lt
6´2 — 20.00 — 2 .69 — 36.5 lt
6´3 — 20 1/4 — 2 .75– 36.80 lt
MEDIDAS ORIENTATIVAS, cada shape se personaliza en función de las necesidades de cada cliente.
Rails: Medium-Low.
Fins System: Futures, FCS.Thruster
Single concave to double concave.